This is where the running blog turns into a travelogue as I illustrate my favourite run
I had just joined the canal and taken out my camera when a lone runner appeared. I like the idea that the day started on theme.
Canals have their own atmosphere that is different to the places they pass through. The mixture of ramshackle buildings, trees and boats softens the view of the Kodak Building - an undistinguished (ie ugly) office block - that dominates the entrance to Hemel.
Of course there has to be a view from a lock. This is taken from a canal bridge, all of which are rather steep. I always walk down them to save my knees; I have no idea how the horses managed.
I always like the way that the willows reflect in the water - it reminds me of an imprssionist painting.
This piece of gentrification is on the site of the John Dickinson paper mill. In 1809 he invented a method of continuous paper manufacturer (as opposed to handmade sheets) and started production in what had previously been a flour mill here at Apsley. As the firm grew so did site and he also brought mills at nash Mills and Croxley. This site was closed down in 1999.
Canals are places of contemplation, whether it is fishing or just staring. In the background is the chimney of Nash Mills where paper is still produced - so not all links with the past are broken.
On the theme of significant industries that have moved away - this is the Ovaltine factory being demolished to make way for more houses. The first factory on this site opened in 1913, however it was replaced by this Art Deco building in 1929.
I always thought that Ovaltine was an English product (perhaps because I associate it with my childhood and milky drinks before bedtime). I only found out that it was Swiss when the factory closed and production moved back to Switzerland.
Ovaltine was originally developed as an energy drink and
some of its advertising made outrageous claims.
It was also the official energy drink of the 1948 Olympics. Hmmmm SIS or Ovaltine what will I choose for my long run?
Another link with the past is the great institution of allotments. All those years of people growing some of their own food.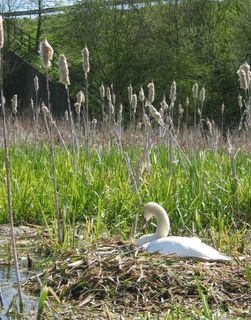 In the lee of the M25 spur road there is a pond off the canal where there are coots, swans and bulrushes.
I will finish with this picture of a bridge for no other reason than I like the play of light reflected from the water. On bright, peaceful days I might just forget I am meant to be as serious runner and stop to stare at the gentle movement.